MediaTek Dimensity 700 chipset promises to be a game-changer for 5G smartphones.
5G penetration is increasing rapidly across the world and so are smartphones that are ready to make use of the new, ultra-fast connectivity standard. Hopefully, we would soon be able to take advantage of the next-gen networks in India too. That said, most 5G-capable phones are still priced on the higher side. There's some good news though. The new MediaTek Dimensity 700 chipset promises to disrupt the status quo by enabling manufactures to bring advanced 5G capabilities and experiences to the mass market, offering high-end features like high refresh rate displays, high-resolution camera setups and more. Let's take a look at what this new SoC brings to the table.
Delivering 5G brilliance
MediaTek Dimensity 700 chipset aims to bring 5G to mainstream smartphones without skimping on features in any way. First of all, it ships with 2CC 5G Carrier Aggregation, which guarantees faster data speeds. This also means that users of MediaTek Dimensity 700-powered devices will be able to get more than 30 percent better throughput layer coverage. This essentially means it will allow significantly more data to pass through its wireless range at a given time, thus delivering speedy connections. That's not all; the 2CC 5G Carrier Aggregation also facilitates smooth transitions between two 5G connection areas when you're moving around. Not only does this ensure seamless connectivity, but it also does wonders for the battery life of the device you're using.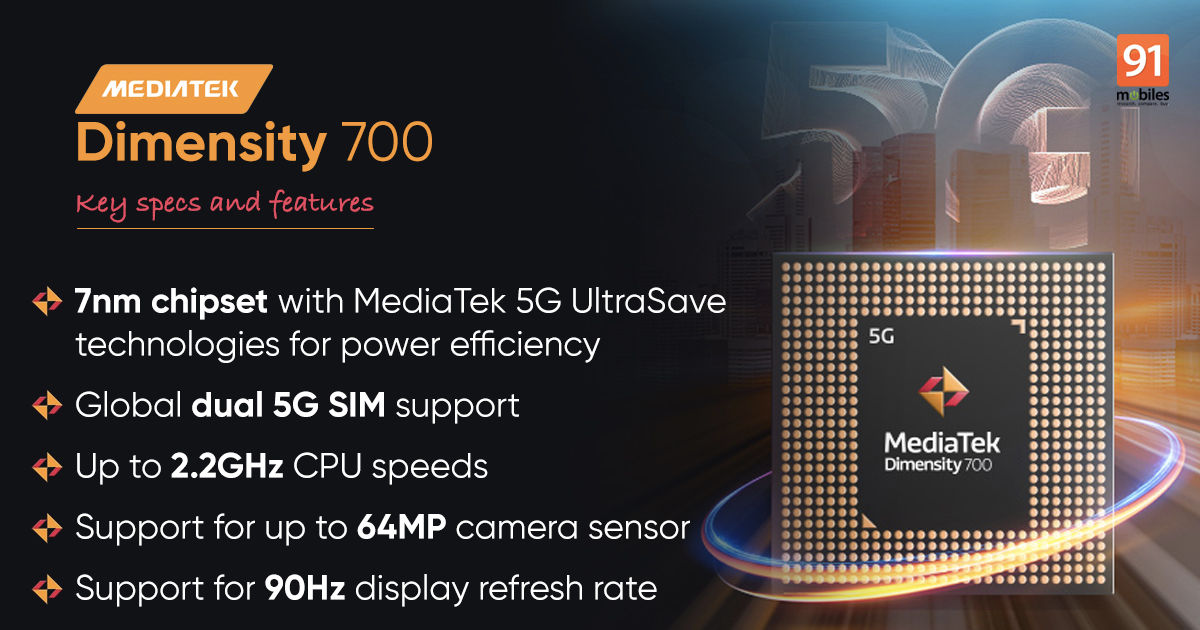 Back when 4G smartphones were hitting the market, it took quite some time for manufacturers to enable LTE on both SIM card slots. That's not the case now, as MediaTek Dimensity 700 SoC offers dual 5G SIM support. This also means dual standby support, so you won't be missing out on 5G connectivity in case one of your SIM cards isn't within the network range. The chipset also enables VoNR services for both the SIM cards. The presence of this technology makes sure that you will receive the best call quality whether it's a voice call or a video call you are making.
High-grade yet efficient performance
MediaTek Dimensity 700 has been equipped with MediaTek 5G UltraSave feature, which equips its 5G modem with a number of power-saving technologies. This way, it makes sure that you can keep accessing 5G networks without worrying about the battery of your device running out in the middle of the day. MediaTek 5G UltraSave is made up of two main features – MediaTek 5G UltraSave Network Environment Detection and MediaTek 5G UltraSave OTA Content Awareness. These two work in tandem and utilise a unique algorithm that dynamically adjusts power configuration and operating frequency depending on the network environment and data transmission quality at any given moment.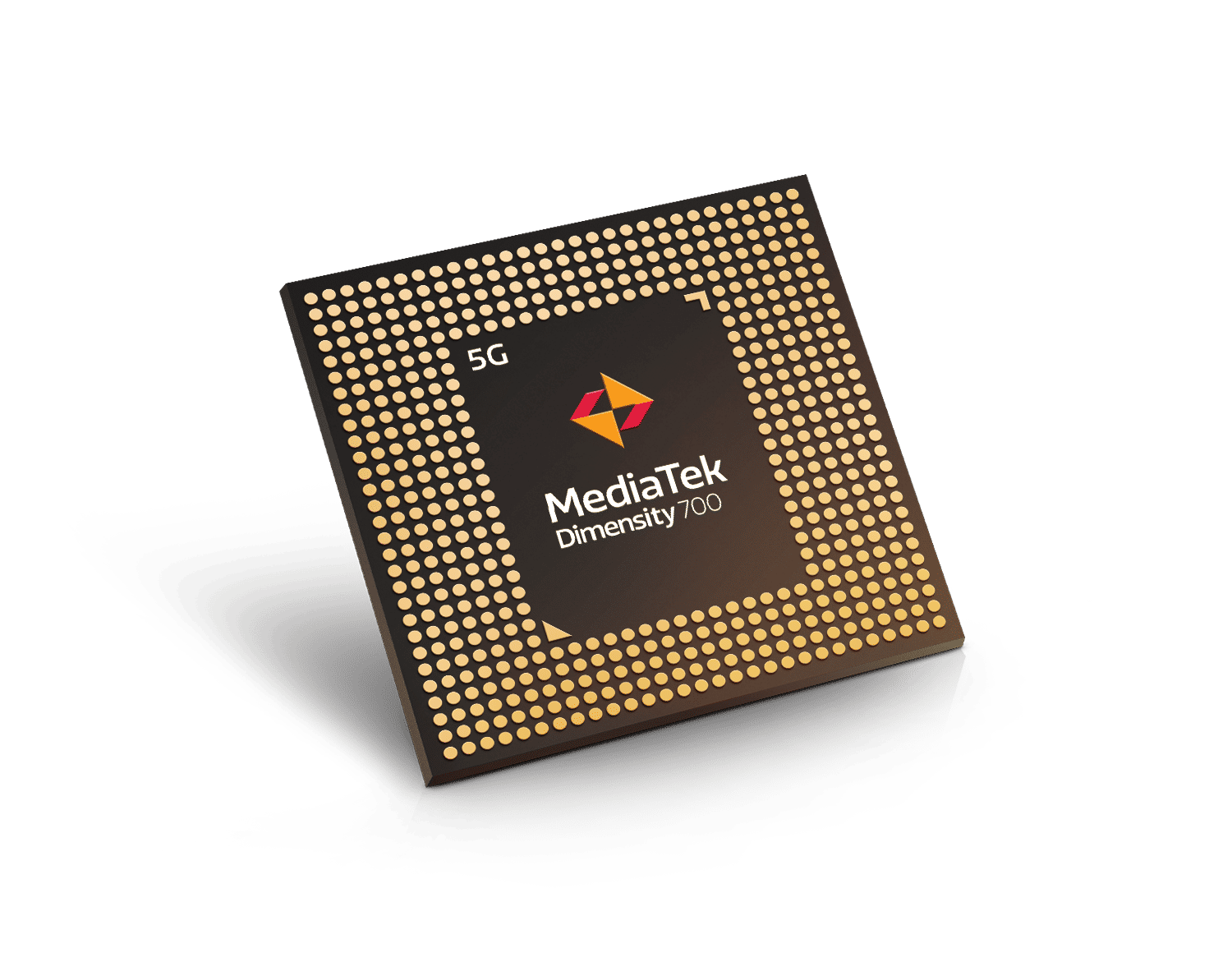 Since we're on the topic of performance, you should know that MediaTek Dimensity 700 chip has been built using the 7nm process. While that alone ensures a tremendous boost in overall performance and battery efficiency, the chipset also holds a powerful octa-core processor as well. This CPU comprises two Cortex-A76 'Big' cores clocked at 2.2GHz and six Cortex-A55 cores clocked at 2.0GHz, ensuring that the heaviest of operations are taken care of without a hitch. As for the graphics, they are handled by a Mali-G57 MC2 GPU that's clocked at 950MHz.
With this SoC, manufacturers will also be able to deliver up to 2,133MHz LPDDR4X memory for enabling buttery smooth multitasking. Furthermore, the presence of two-lane UFS 2.2 storage will mean quicker data transfers. All this will make sure that MediaTek Dimensity 700 is able to offer a great all-round smartphone performance, no matter if you're using your devices for streaming movies, playing high-end games, capturing photos and videos, or anything else, for that matter.
High refresh rate display
Displays with high refresh rates are no longer the domain of premium smartphones. With MediaTek Dimensity 700, manufacturers will also be able to use them in their mainstream handsets. This chipset supports full HD+ displays with 90Hz refresh rates. The thing about such panels is that they help reduce the blur in animations and make scrolling through the interface an even more pleasing experience. Moreover, gamers have more to look forward to from such features as these allow developers to render their games in faster frame rates, leading to smooth graphics that can even give players an advantage in frenzied online matches.
High-resolution multi-camera setups
No mainstream smartphone these days is complete without a multi-camera setup that allows you to capture your shots with different perspectives. It's no surprise then that MediaTek Dimensity 700 SoC also provides support for such setups. But what's exciting is that its ISP allows sensors of up to 64MP to be used on devices. Such cameras not only provide high-resolution shots but also open up avenues for manufacturers to implement features like hybrid zoom and more. The AI capabilities of the chipset can translate into an extensive list of useful camera features like AI bokeh, AI colour and AI beauty. MediaTek Dimensity 700 also includes integrated hardware-based imaging accelerators that facilitate multi-frame noise reduction for enabling night modes that capture detailed and sharp photographs during nighttime.
Support for multiple voice assistants
MediaTek Dimensity 700-powered devices are capable of listening for multiple trigger words, waking up voice assistants like Google Assistant, Amazon Alexa, and others. This means you can make use of different voice assistants as needed, without making any changes to the settings, adding another layer of convenience and functionality.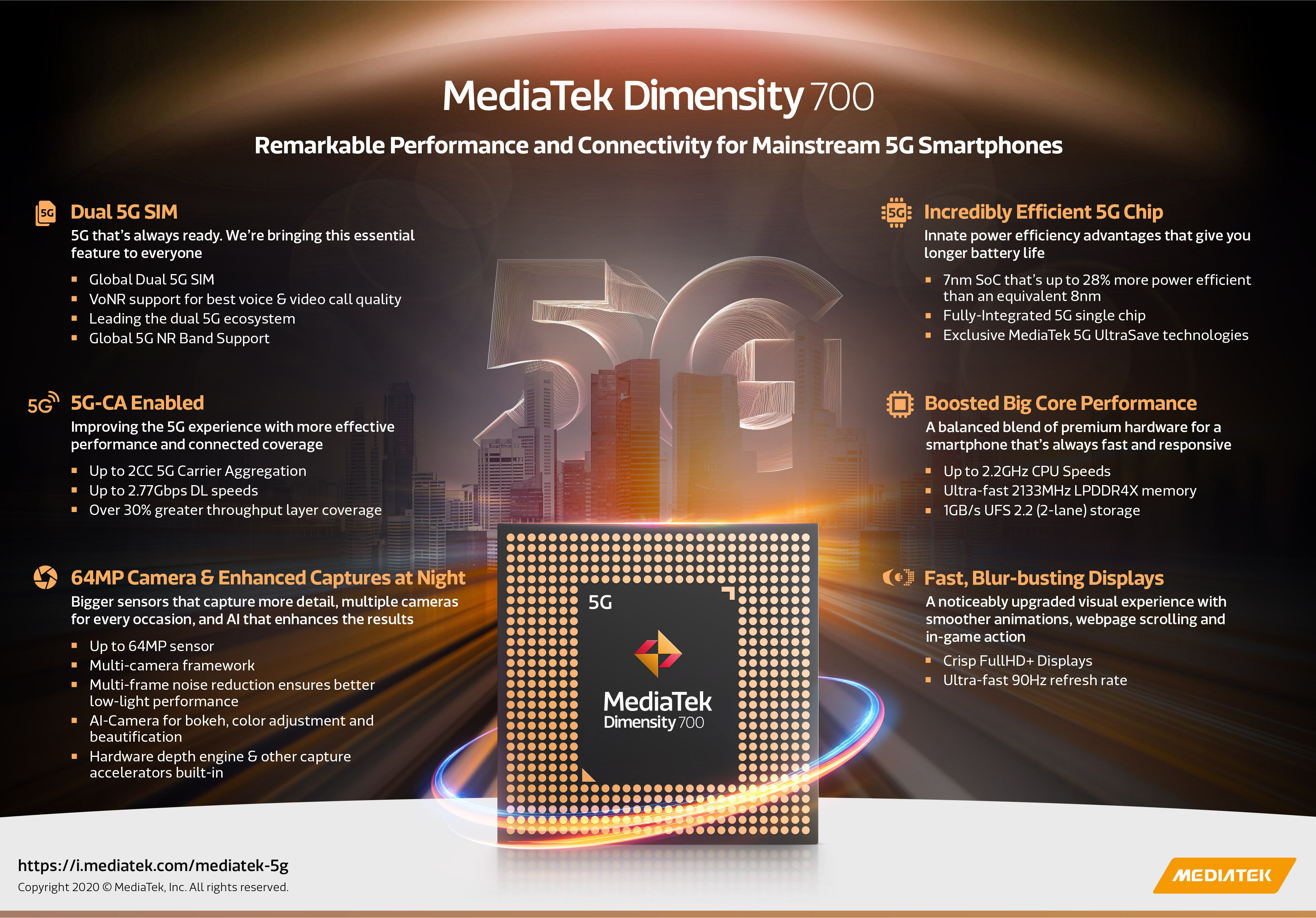 All these attributes mean that MediaTek Dimensity 700 is ready to bring top-notch multimedia and imaging features to consumers, while supporting ultra-fast 5G networks. You can expect smartphones across multiple price tiers to come equipped with the chipset in the near future. In a nutshell, MediaTek Dimensity 700 promises to democratise 5G and make it available to everyone, and effectively ensuring rapid, large-scale adoption of the new technology.