ASUS ZenBook Edition 30 UX334 review
If there's one brand that has been in the pursuit of perfection in the laptop segment, it has to be ASUS. The Taiwanese giant has been on a launch spree in the past year or so, with each of its offerings catering to a different need and / or price segment. From the entry-level Vivobook range to premium, gaming-centric ROG series, and from the (relatively) affordable gaming-oriented TUF series to the flagship ZenBook range – the laptopmaker has something for everyone. And the brand is also scoring high on the innovation quotient with features like Dual Screen (on the ZenBook Pro Duo) and Screen Pad (which debuted on last year's ZenBook Pro 14 and 15). So when it unveiled the ZenBook Edition 30 at this year's Computex, the device certainly piqued our interest… and for good reason. After all, the ZenBook Edition 30 UX334 is the result of all design aspects and capabilities ASUS has been working on over the past several years. But is that enough for it stand out from the crowd? Let's find that out in this review.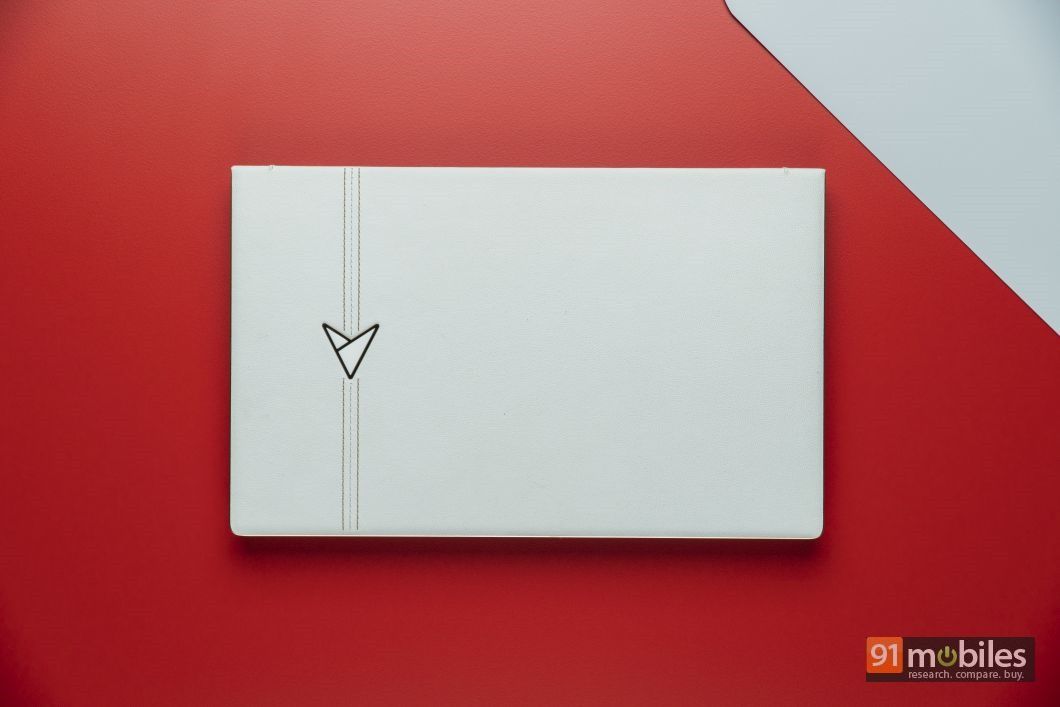 Specs at a glance
Measures 30.2cm x 18.9cm x 1.85 cm
Weighs 1.29kg
13.3-inch IPS display, a resolution of 1,920 x 1,080 pixels
Intel Core i7-8565U processor
16GB DDR3 RAM
1TB SSD
1 x USB 3.1 Type-C port, 2 x USB Type-A port, 1 x HDMI port
microSD card reader
50Whr battery
Windows 10
Design and display
Ever since I've started reviewing laptops, I haven't seen any device get as much attention as the ASUS ZenBook Edition 30. The laptop not only managed to steal people's attention, but also made them intrigued enough to ask me about it. That says a lot about the machine which has been crafted out of leather and looks classy in an all-white hue. The premium experience doesn't stop there, as the device comes bundled with a white mouse along with a mousepad as well as a sleeve.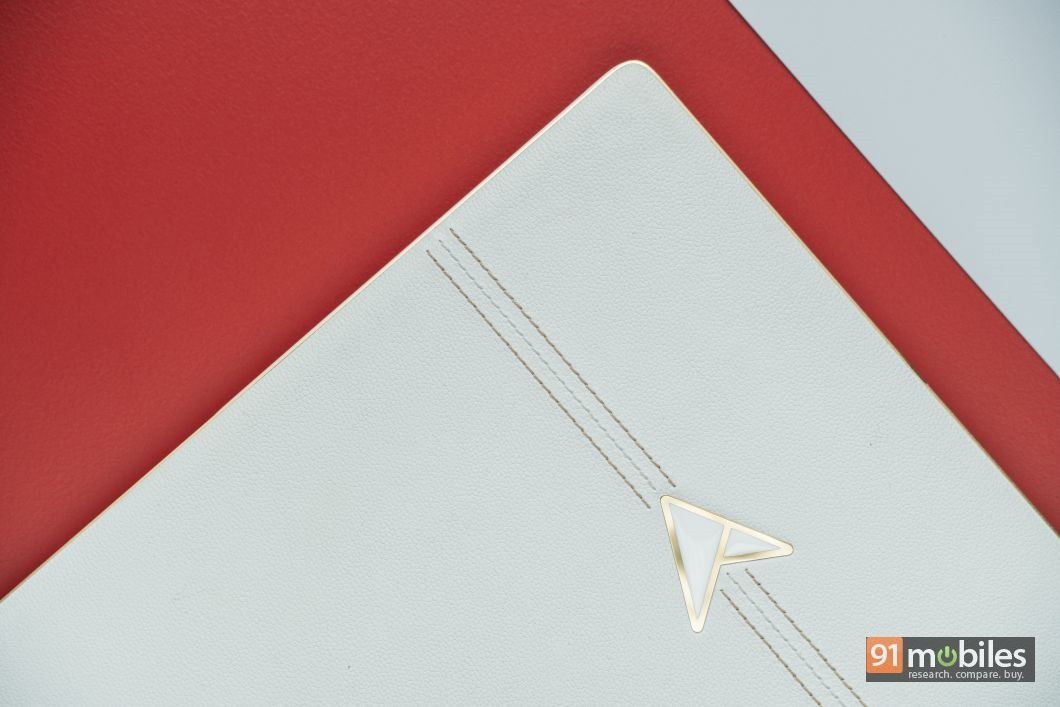 Now, the ZenBook Edition 30 isn't the first rig that has used leather as construction material (remember the HP Folio?), but ASUS has surely deployed it cleverly. The textured white sleeve on the lid is complemented well by three golden lines, and an ASUS logo that's been made using 18K gold. There's a gold trim running across the corners of the screen too. The best part is that you'll find this uniformity to continue inside too… as the golden trim is placed above the keyboard as well as around the trackpad. Unlike many other laptops that use other colours that mar the looks, ASUS' offering is decidedly minimal which adds to the charm. I also liked the matte texture in the palmrest area which makes it easier to type.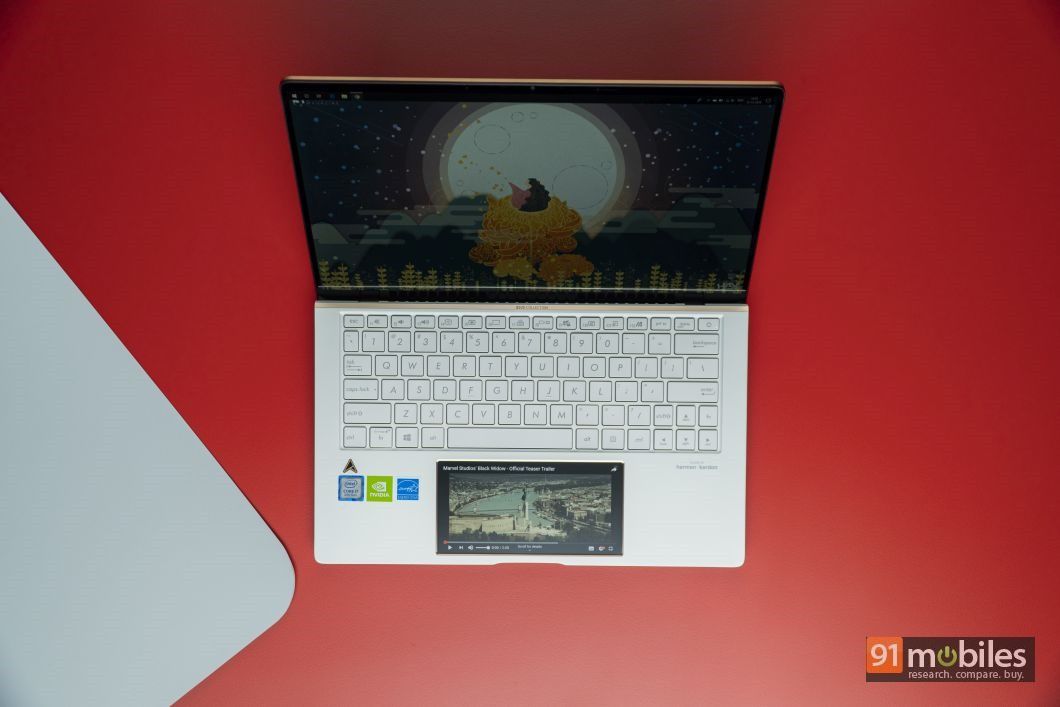 With a screen size measuring 13-inches, the ASUS ZenBook Edition 30 UX334 is quite compact. It has a slim waist of 1.85cm, and tips the scale at 1.29kg. And the device does pass the opening-with-a-single-hand test.
It's also appreciable that ASUS has been generous in terms of ports on offer. Towards the left, you'll find the charging socket, a full-sized HDMI port, a USB Type-A port, and a Type-C socket. And on the right, you'll find a microSD card slot, another Type-A port and a 3.5mm headphone interface. My only complaint in terms of I/O would be the fact that the brand continues with a proprietary charging port, and considering that it already offers Type-C charging in some of its ZenBook lineup, this becomes even bizarre.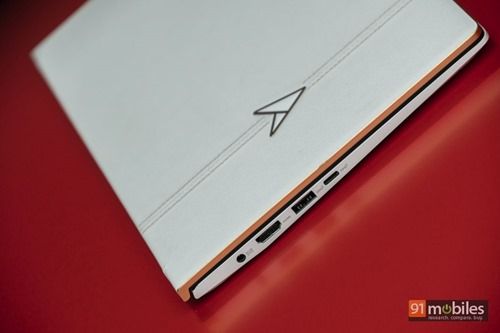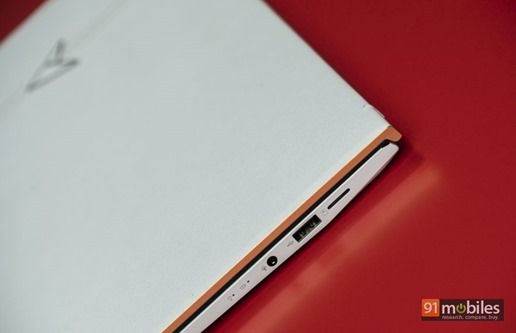 The 13-inch screen has minimal bezels all around, though I wouldn't go on to say that it's bezel-less. Having said that, the good thing is that you'll find the webcam in the appropriate location, and it's accompanied by two more sensors, which make authentication with your face all the more faster. With a resolution of 1,080 x 1,920 pixels, the IPS panel is quite sharp and vibrant. The brightness is pretty good, and I was able to use the special-edition ZenBook under harsh outdoors too.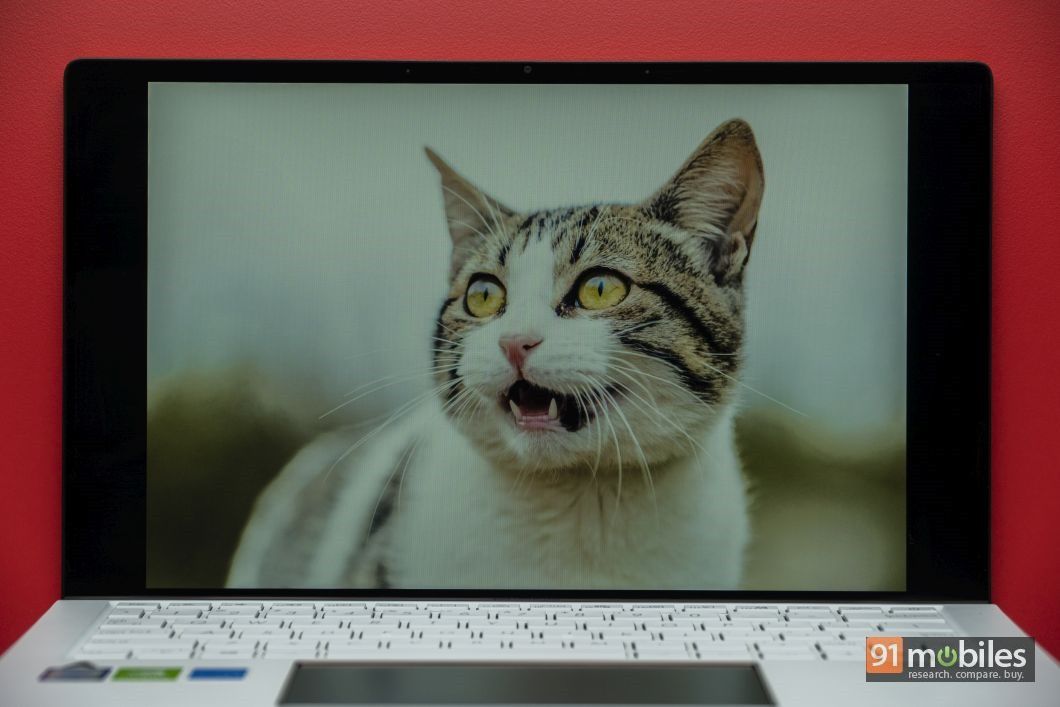 Keyboard and trackpad
The ASUS ZenBook Edition 30 has a reliable keyboard that has ample space in between and offers good travel too. I was able to get used to it really quickly and typos were in check as well. The backlighting is quite good, with three intensity levels, though it's white which reduces its usefulness considering the keys are white too. I also find the placement of Shift key on the right quite odd, and many a times I ended up hitting the arrow button instead.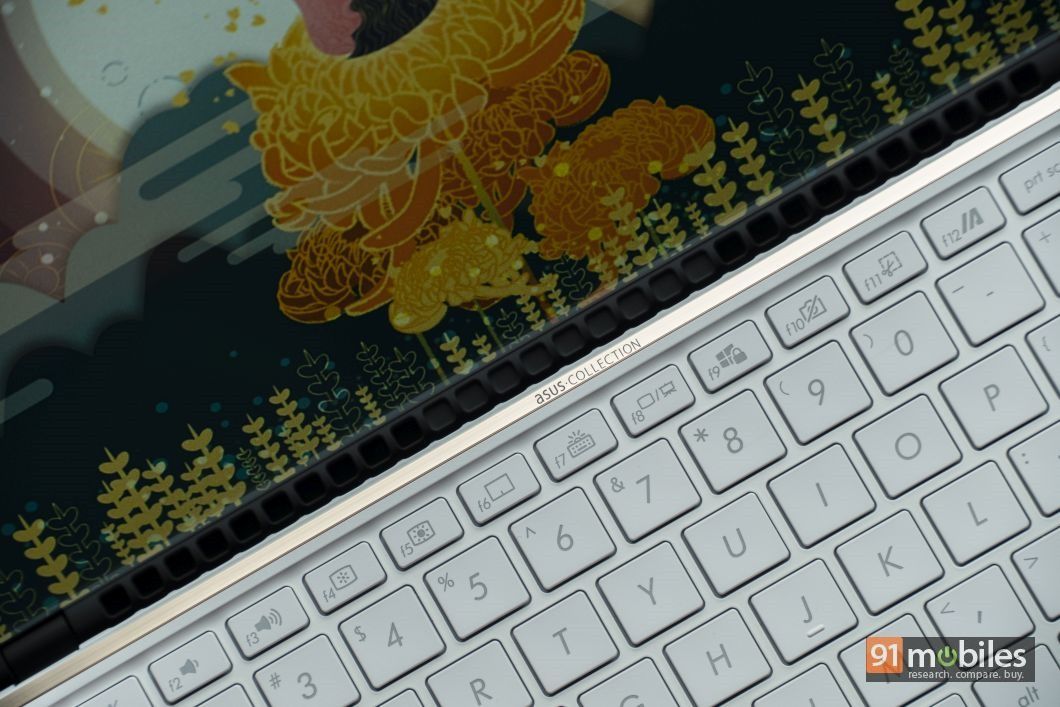 Now the trackpad on the ZenBook Edition 30 is much more than just a mouse for navigation. Similar to the ZenBook Pro 14 and 15, ASUS has offered the ScreenPad functionality on the rig. It's the second iteration of this implementation. With a large 5.65-inch display and a resolution of 2,560 x 1,000 pixels, it's not a gimmick. That said, you'll need to find out the best way to leverage its capabilities as per your usage. You could run a second app in the screen or open things like calculator, etc. I mainly used it for quickly entering numbers using the numberpad or accessing apps like Spotify instead of opening them on the main screen. I also liked the fact that you could tweak its brightness levels, change background and more. Worth noting that it isn't as fast as one would have liked, though you can always disable it altogether to simply use it as a touchpad.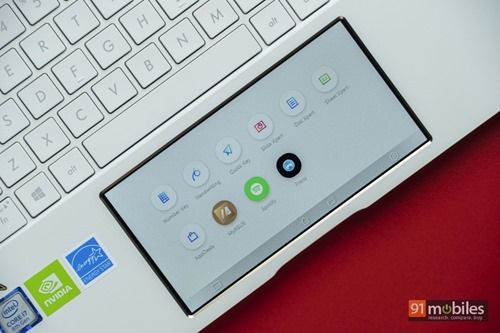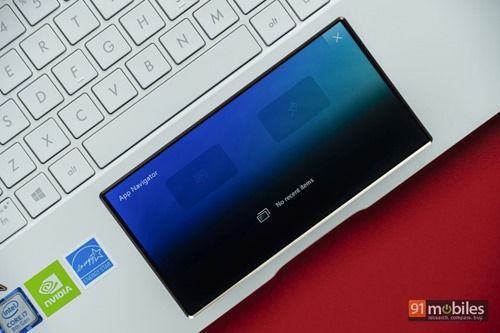 Hardware and software
Inside the ZenBook Edition 30 ticks the Intel 8th-gen Core i7 processor. The hexa-core CPU is clocked at 1.8GHz, with its turbo clock speed going as high as 4.6GHz. The chip has already proven its worth in several machines, so you know that you'll get dependable performance with ASUS' flagship machine. Taking care of multitasking needs is 16GB RAM. Running benchmarks, the device scores 3,812 on PCMark 10, which is in line with expectations. On Cinebench's R20, the notebook achieves 1,601cb. Coming to the processor-centric test, Geekbench 5's benchmark outputs 1,113 and 3,852 as single-core and multi-core results.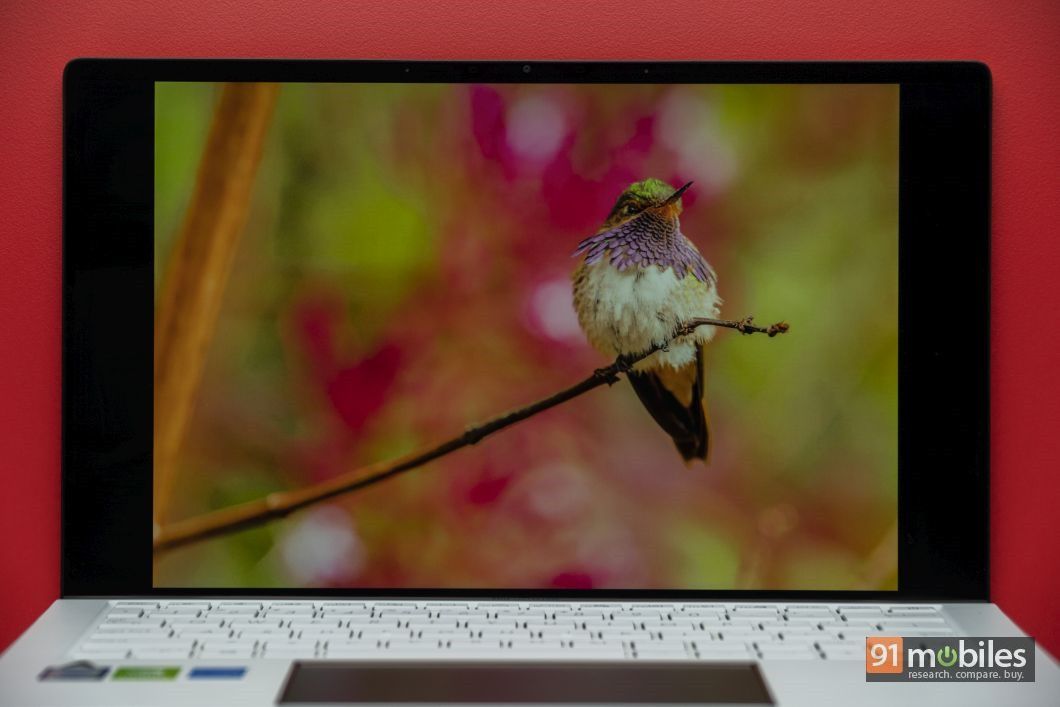 While ASUS is aiming the ZenBook Edition 30 as a productivity-oriented laptop, it has employed an MX250 graphics card with 2GB VRAM for basic graphics capabilities. Of course, you could play casual titles on the device, but don't expect it to run PUBG and Fortnite flawlessly. On 3DMark's Time Spy benchmark, the notebook scored 993.ASUS ZenBook Edition 30 benchmarks1 of 5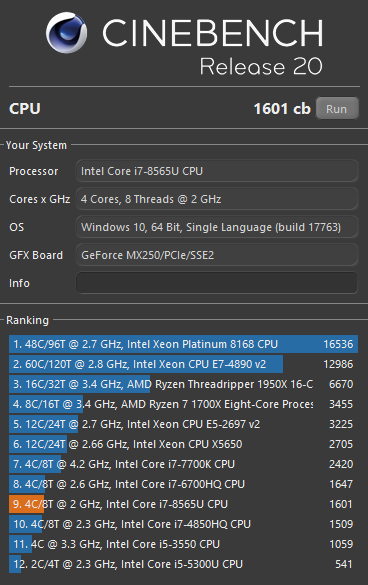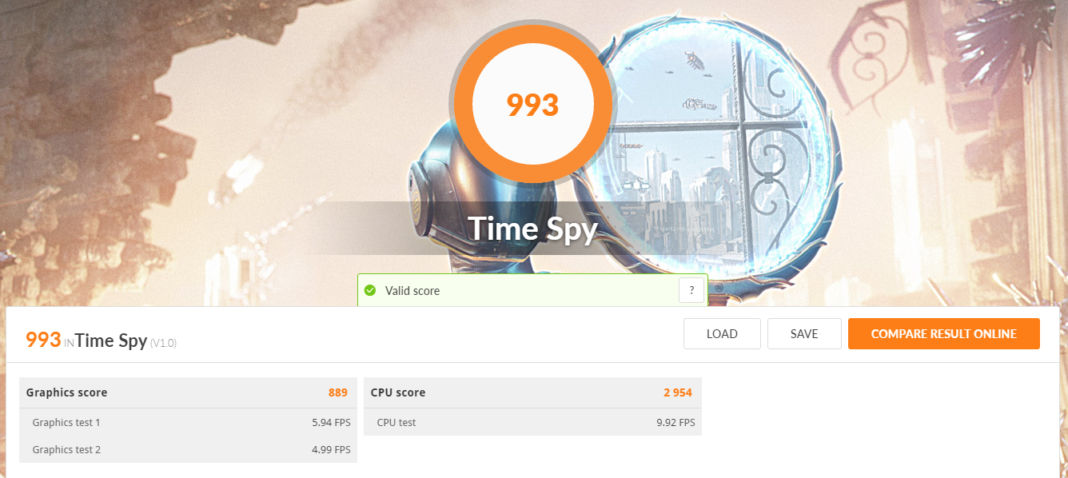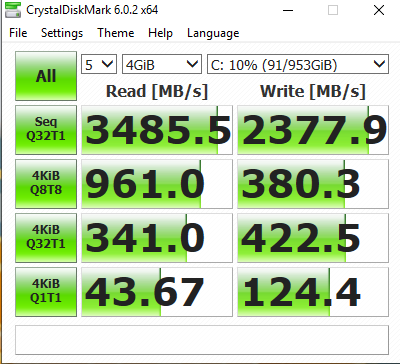 Storage-wise, the ASUS ZenBook Edition 30 ships with 1TB SSD. The solid-state disk is quite fast, which is also reflected on CrystalDiskMark scores, where it achieved 3,485.5MB/s read and 2,377.9MB/s speeds.
Courtesy its Harmon Kardon speakers, you can rest assured that the ZenBook Edition 30 UX334 would offer a good multimedia experience. And that surely remains the case with the speaker outputting loud and rich sound.
ASUS's ZenBook Edition 30 comes equipped with a 50Whr battery. It could last a meeting of a couple of hours, though in case you forgot your adapter at home, the notebook won't be able to last the entire day.
Verdict
The ASUS ZenBook Edition 30 is easily one of the most fun laptops I've used this year. It offers everything you'd expect from a notebook, complemented by oodles of class and style. Sadly, it isn't available to buy in India as of now. For reference, it's available for $1,399 (~Rs 1lakh) for the base variant with the Core i5 processor. Of course, as a premium offering, it's up against some strong options that rank high on the performance aspect.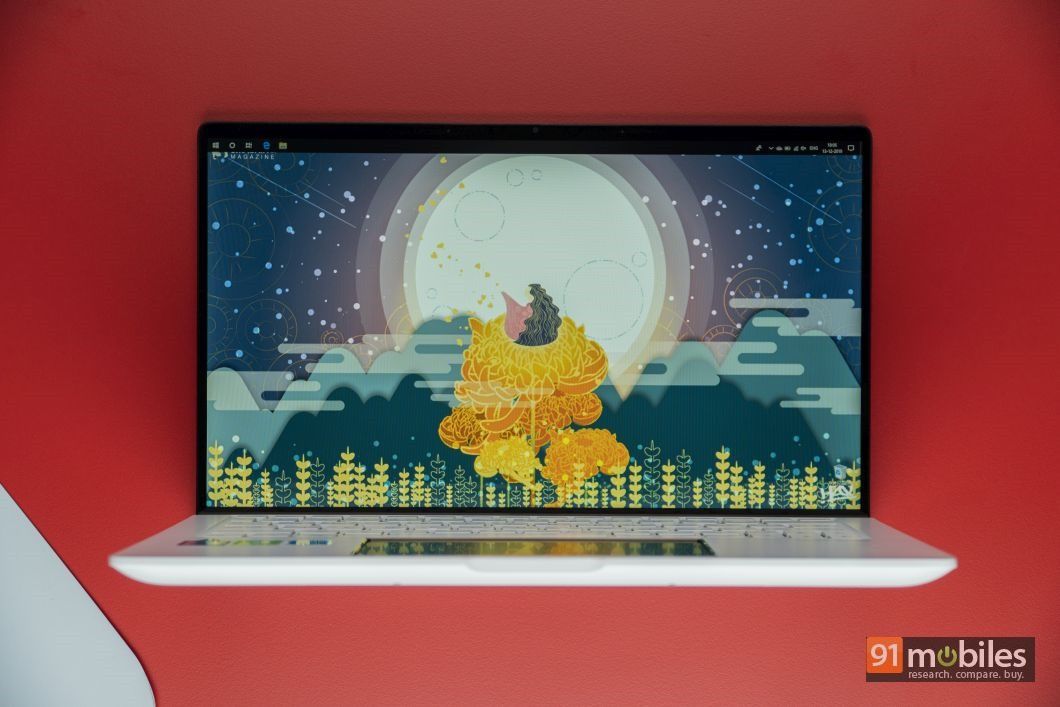 Yet, none of these devices can match the innovative quotient of the ScreenPad or its premium design aesthetics, and that's where it has a clear advantage. So if you want to make a statement with your work machine, then the ZenBook Edition 30 UX334 is something that can't be ignored… if only, you could get your hands on its limited-run 3,000 units.
Editor's rating: 4 / 5
Pros
An attractive design
Solid build quality
Good display with ScreenPad adding to the versatility
Great battery life
Cons
Can't match the gaming capabilities of the competition
Limited availability