1 in 2 users buy a new smartphone just to experience the latest features: Eshopstore Smartphone Buyer Insights Survey 2020
Almost 50 percent users buy new smartphones just to experience new features
38 percent users have said that they would consider innovative features as the most important parameter, while 34 percent have chosen specs as the deciding factor
Over 50 percent users switch their smartphones within 2 years
One in four users say they need more than 4 weeks to finalise and zero in on a new handset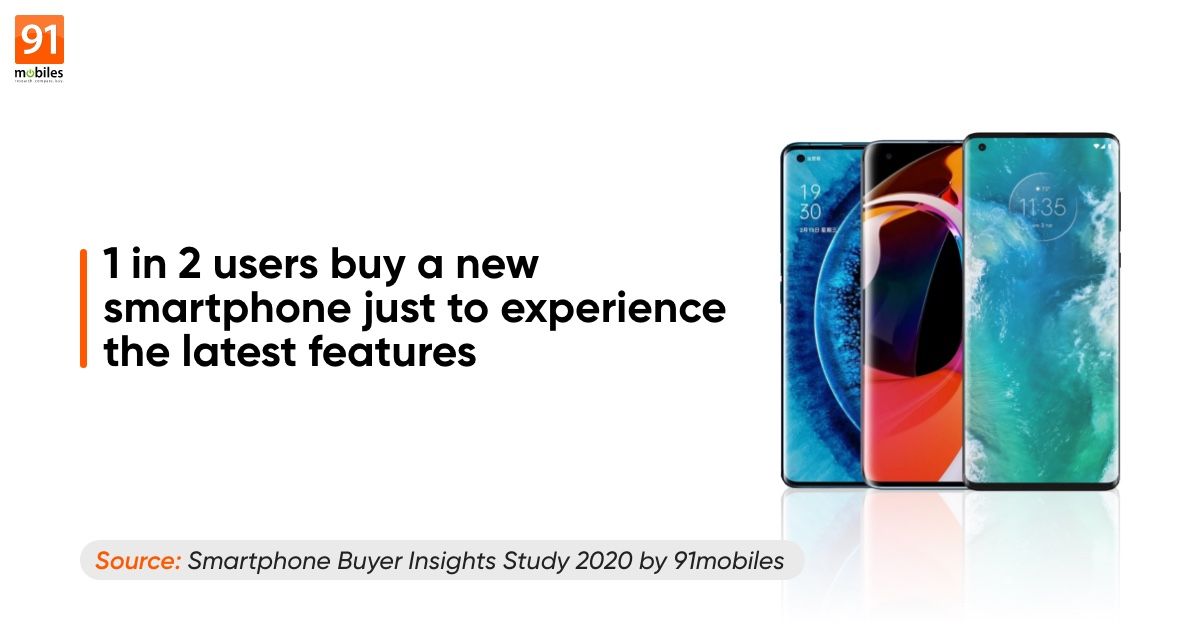 India is supposed to be the second largest smartphone market in the world, as per Counterpoint. But why are Indians buying so many smartphones? How often do they really upgrade? How do these prospective buyers do their research? How long do they take to make up their minds? These are just some of key questions our Smartphone User Insights Survey 2020 helps answers. We have the details here, so let's dive right in.
Primary reason for buying a new phone
One of the key points that emerges from the Buyer Insights Survey pertains to why people buy new phones. Of course, an obvious reason would be if their existing daily driver had a problem, and wasn't working the way it used to. Surprisingly though, just 32 percent users chose this reason for buying a new handset. It seems that a large majority want a new smartphone just because they covet newer features.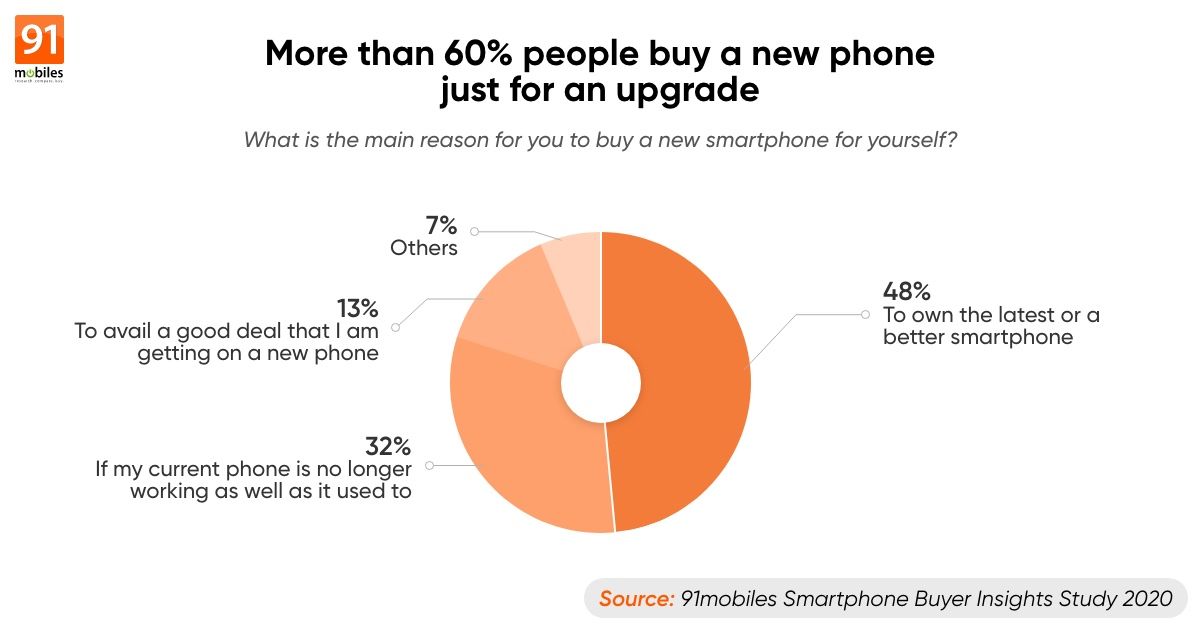 In fact, more than 60 percent said they switch handsets just to get an upgrade – including 48 percent who said they want to own the latest devices and another 13 percent who want to avail good deals that become available from time to time. So now you know the reason that makes India a booming market for smartphones.
Factors that matter the most
Busting the myth that specs are considered the most important factor by users while shortlisting a new smartphone, a larger percentage of survey respondents have chosen something else. 38 percent users have said that they would consider innovative features as the most important parameter, while 34 percent have chosen specs as the deciding factor. This is an interesting insight, and hopefully, indicates that prospective buyers might finally be moving away from a specs-focussed approach. Another possible reason could be that a fair chunk of users might want to flaunt their smartphones in front of others and show off cool and interesting features that other devices might not have.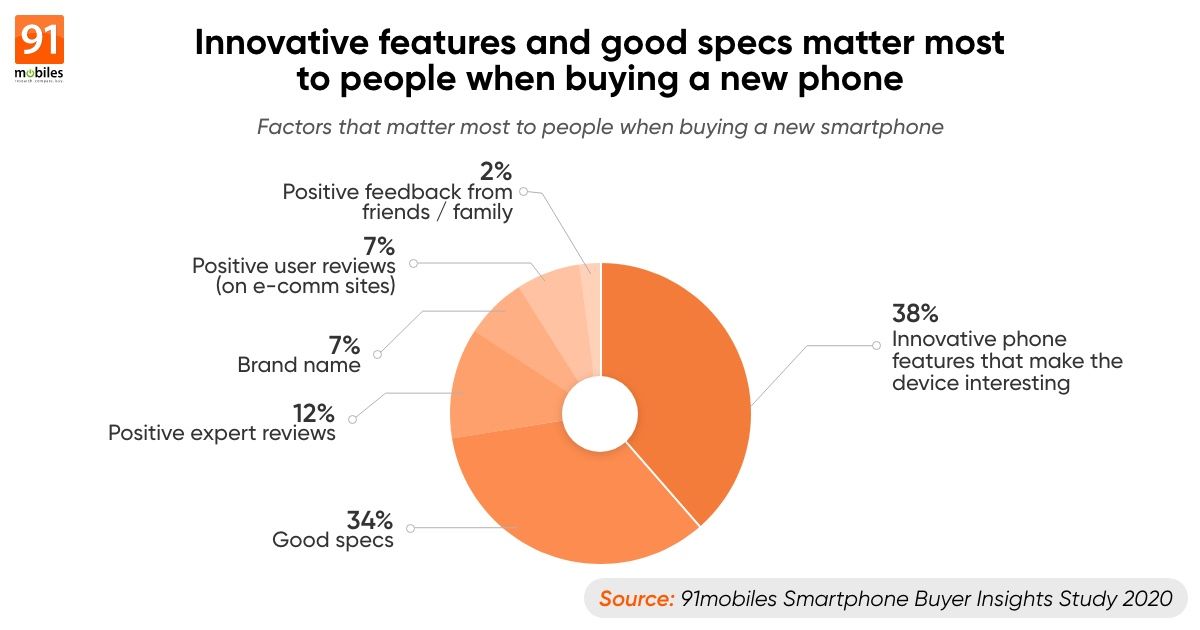 12 percent users have voted in favour of positive expert reviews, meaning they'd go by whatever expert reviews say regarding specific smartphones, and then make their decision. A mere 7 percent consider the brand name as the most important factor, indicating that prospective buyers can be fickle minded, and likely to base their decision on other factors like specs and features. Another 7 percent said they look at users reviews on e-commerce platforms while making up their minds.
Here are some points that emerged out of the above question when we analysed the data based on age and gender:
62 percent survey respondents aged below 18 said specs mattered the most while buying a new smartphone. Hardly surprising, since younger users would likely want to play games on their phones, and also covet powerful specs for showing off.
43 percent users aged between 25 and 34, and 41 percent aged between 35 and 44 said innovative features matter the most.This indicates that after a certain age, users realise that it's not specs that matter, and other aspects should be given preference instead.
35 percent men said specs mattered the most, with 28 percent women voting in favour of specs. It seems clear that the males of our species pay more attention to specs than women do.
When it comes to innovative features, 38 percent men voted in favour, but for women this percentage stood at 43 percent. This indicates women users would probably pay more attention to other aspects than pure number crunching, perhaps looking at camera capabilities, new trends and innovations.
Frequency of smartphone upgrade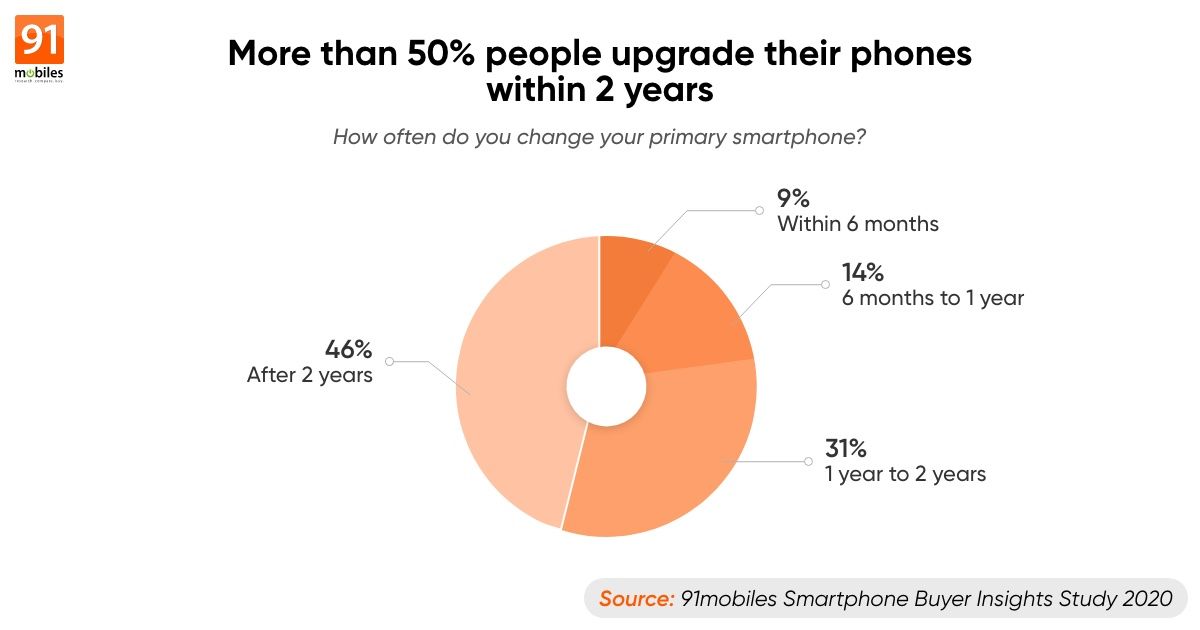 When asked how often users changed their primary smartphones, it emerged that almost a quarter (23 percent to be exact) changed their phones within a year. Including 31 percent who said they switched between 1 to 2 years, the total number of respondents who switched within 2 years is over 50 percent. This is a significant number and shows why the Indian smartphone arena is so dynamic, with tons of brands and smartphone models that cater to every need and price segment.
Time taken to decide on a new phone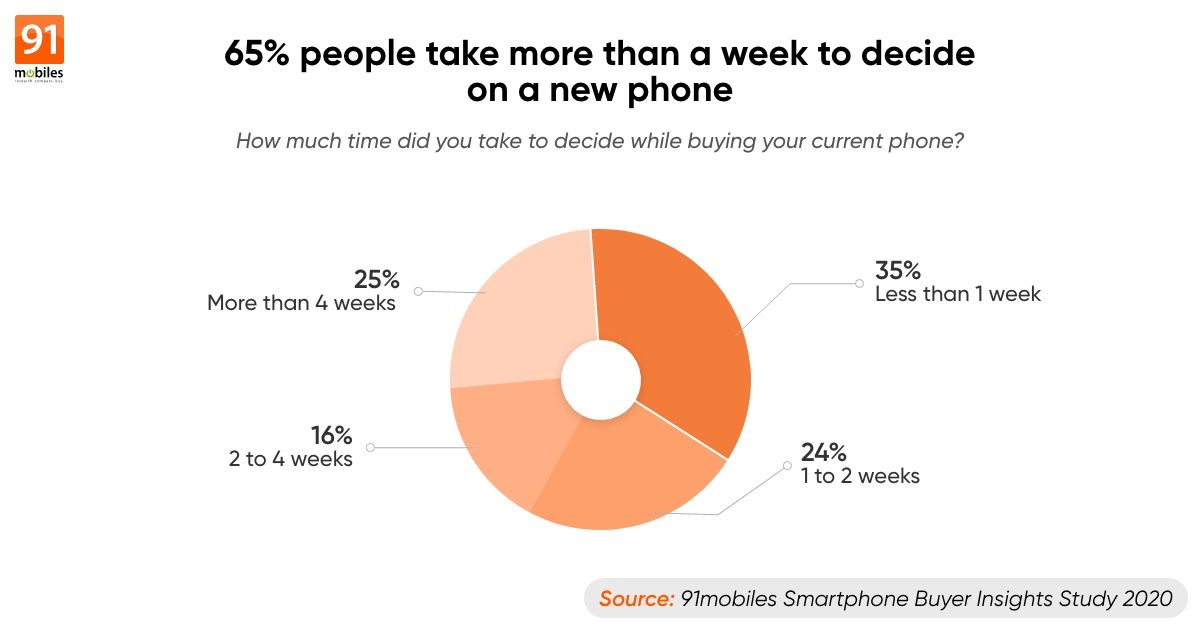 While buying a new handset, 35 percent respondents said they make up their minds on the specific model they'd be purchasing within a week. 65 percent users however, take longer to decide, with almost one in four users saying they need more than 4 weeks to finalise. This indicates how tricky it is for most users to make up their minds, given the number of options available these days.
Another point related to the above is that as the price of the device increases, users need longer for research. This is because most users would want to make sure they're spending their money well and buying a device that serves their specific requirements well.
Sources of information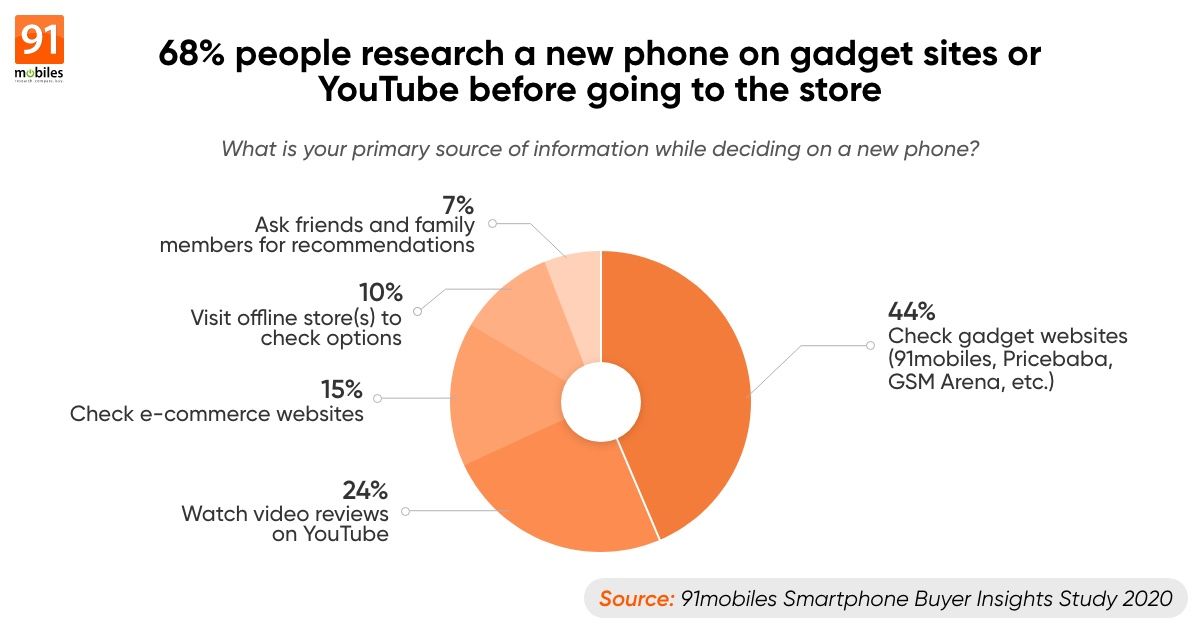 Turns out, the primary sources of information for prospective buyers, when they're shortlisting the smartphones they want to buy, are gadget websites like 91mobiles, Pricebaba and GSMarena. 44 percent survey respondents said they look to these gadget websites to research new smartphones. 24 percent refer to videos on YouTube, 15 percent check e-commerce websites like Amazon and Flipkart, 10 percent visit offline stores, and 7 percent ask friends and family for recommendations.
Here are some more points related to how users research:
As a big validation for the work we do at 91mobiles, about 70 percent users said they view two or more expert reviews or videos before making their final purchase decision. Just about 13 percent said they do not refer to any expert reviews or videos.
90 percent users said they compare at least two devices before finalising one. In fact, 26 percent (that's more than a quarter) said they compare no less than four to five smartphones before making up their minds.
More than 90 percent users look at smartphone prices online. This includes 53 percent who said they only shop around online for prices, and 40 percent who hunt for prices from both online and offline sources. Just 4 percent look at offline prices.
Next up, we'll be revealing insights based on purchase behaviour of users and how exactly people buy and pay for new smartphones. Watch this space.